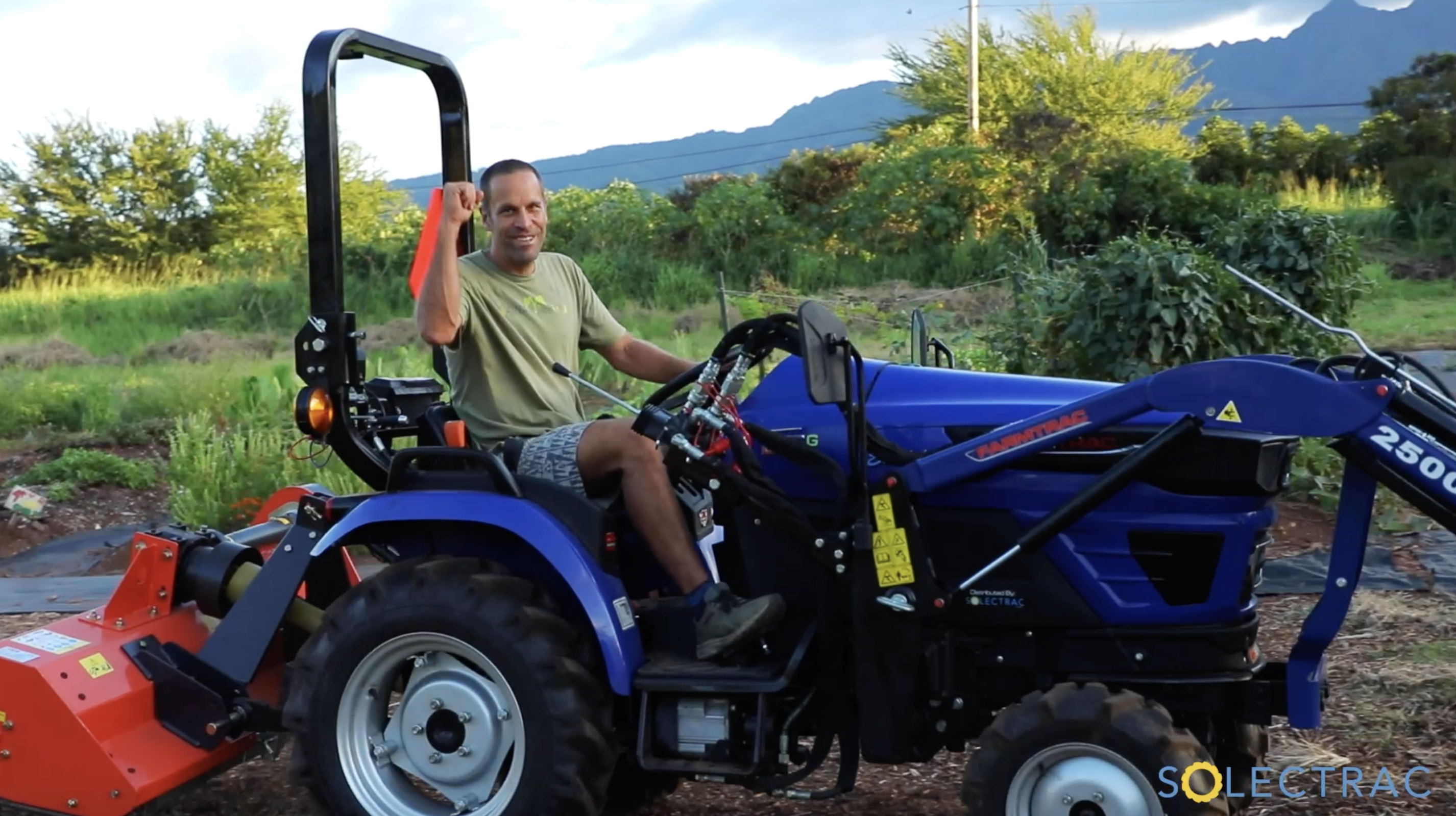 How Solectrac and Jack Johnson Brought This Electric Tractor to Oahu
The story about how America's first production manufacturer of electric tractors tilled its very first farm in Hawai'i is really two stories that came together at just the right moment in time, this moment in time, when we have reached the breaking point of the way in which we've treated our environment. Today we are changing how we interact with our environment by creating a farming ecosystem that is productive, efficient, and sustainable.
The first story involves a California-based electric tractor manufacturer, Solectrac, an Ideanomics portfolio company, whose mission is to offer farmers independence from the pollution, infrastructure, and the price volatility associated with fossil fuels. The team at Solectrac offers a 100% battery-powered trio of tractors for agriculture and utility operations. Solectrac's tractors not only manicure our fields in a cleaner, completely carbon-free way, they are sustainable, meaning they can be charged by renewable energy sources such as the sun and the wind.
The second story involves an internationally acclaimed singer-songwriter who co-founded Kōkua Hawaiʻi Foundation; a 501(c)3 environmental education nonprofit that recently acquired a seven-acre learning farm on the North Shore of Oahu. Jack Johnson and the foundation were looking for an electric tractor for the farm. These stories come together in an unexpected but fateful way, and, SPOILER ALERT, after a year of conversation and some drama during delivery, there's a happy ending.
The Tractor that Steve Built
If Solectrac was a person, that person would be Steve Heckeroth, Founder and CEO of the Santa Rosa-based manufacturer, a man committed to creating electric products that emit zero emissions for commercial owners and operators, but most especially for farmers wanting to divest from fossil fuels and become energy independent. The company sold their first tractor, the 40 HP equivalent eUtility, to a sustainable farm near Toronto, Canada. After a story in the Toronto Star was published about that delivery, Solectrac's CRM exploded with dozens of inquiries in a matter of days. In 2019, Solectrac became a California benefit corporation and a Certified B Corp, which means the company prioritizes social and environmental impacts along with profit. Also, that year, Solectrac received impressive recognition around the world. Solectrac was a finalist at Food Funded, an Entrepreneurship and Investor Fair held at the Presidio in San Francisco. Solectrac received the Innovation Award from India's tractor manufacturer Escorts and was an Innovation Award nominee from Canada's Farm Progress Show. In 2020, Solectrac earned the Solar Impulse Efficient Solution label from the Solar Impulse Foundation, recognizing the company as one of the 1,000 most "efficient, clean, and profitable solutions with a positive impact on environment and quality of life." In 2021, Ideanomics invested in Solectrac and has already seen an uptick in pre-order requests.
As a way of giving back to their investor community, Solectrac donated a compact electric tractor as part of their 2020 equity crowdfunding campaign on StartEngine. People who invested $500 and more into the campaign were eligible to nominate a farm and vote for their favorite farm to receive the donated tractor. The farm with the most votes received the tractor donation.
People who know anything about Jack Johnson know that he is a singer-songwriter who reached international fame with the hit song "Upside Down" for the 2006 film, Curious George. Hard core Jack Johnson fans might know more, like that he was born and raised on the North Shore of Oahu, Hawai'i, that at 17 he was the youngest surfer to ever make the finals of the trials in the prestigious Pipeline Masters, and that he was a film student at UC Santa Barbara.
Jack and his wife Kim Johnson, an educator and his college sweetheart, are devoted to environmental causes. Together, they founded the Johnson Ohana Charitable Foundation, a nonprofit public charity supporting environmental, art, and music education worldwide, and the Kōkua Hawai'i Foundation, a nonprofit organization that supports environmental education in the schools and communities of Hawai'i. The Kōkua Hawai'i Foundation recently acquired a new home in Haleiwa on the North Shore of Oahu with a vision to establish agricultural, educational, and retail activities that benefit the community and promote local food, waste reduction, and environmental stewardship. The property will house the Kōkua Community Center, three mission-aligned businesses, and the seven-acre Kōkua Learning Farm. The Johnsons are deeply involved in their local farming community and are committed to teaching the next generation about the benefits of sustainable farming.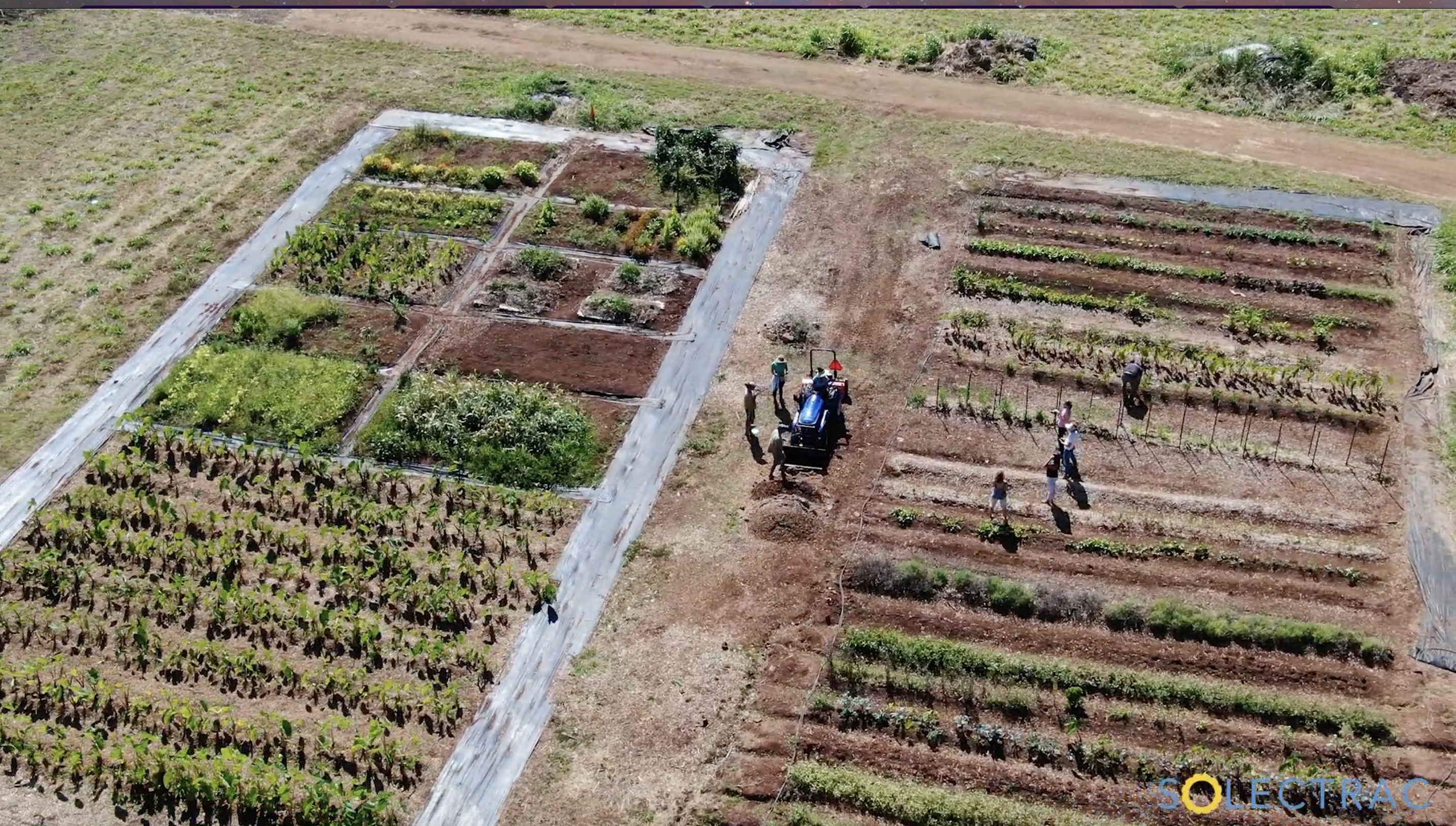 To that end, the Johnsons were very eager to get an electric tractor on the Kōkua Learning Farm. Because we are not yet in a world where electric tractors are for sale in every community, the Johnsons hit the internet in search of an electric tractor that could be charged by solar panels. Google produced Solectrac. Jack sent an email to Solectrac, which Christiane Heckeroth, CCO of Solectrac, saw and discovered that it was from the Jack Johnson. She alerted Steve, who called Jack the next day.
A Fortunate Stroke of Serendipity
The very tractor model that Jack was interested in getting was also going to be the donated tractor that the Kōkua Hawai'i Foundation had been elected to receive by the StartEngine investor community. Steve and Christiane would fly along with the tractor to the Kōkua Learning Farm to deliver and demonstrate how to use it. The couple took along their daughter Amy, who is Solecrac's video producer, to chronicle the event. Despite already having several dozen electric tractors on the books stateside, they were thrilled to bring their very first electric tractor to the Hawaiian Islands. Their feeling is the same one held by Ideanomics – as soon as farmers see the benefits and ease of use of a carbon-free tractor, we're gonna need a bigger factory.
Back on the North Shore of Oahu, for Jack and Kim, adding an electric tractor to the Kōkua Learning Farm was a dream come true. Kim acknowledged that they were eager to use its arrival as an educational moment, to invite local "farmers to come see the tractor, talk about what this means for the future of sustainable agriculture in Hawai'i." It would give them an opportunity to learn and share ideas together.
But there was the Pandemic and a shortage of shipping containers. It took some luck and perseverance by Jack's logistics team to secure a container that would take the tractor from California to Oahu. "We had a date secured and all seemed to fall into place," explained Christiane. "When it didn't again because of shipping issues, we had to move the itinerary up. Life during COVID."
After a few more twists and turns of delivery on the island, the tractor finally arrived! When it did, Jack and the team were like kids on Christmas day, eager to open the new gift and take it out for a spin. "He was so excited driving back and forth, moving gravel, and moving compost," recalled Christiane, and his enthusiasm inspired the Solectrac team. "Jack is a celebrity, but he's also just a guy who is doing what he thinks is right. He and his wife Kim are such a great team in bringing sustainability issues out to a larger audience."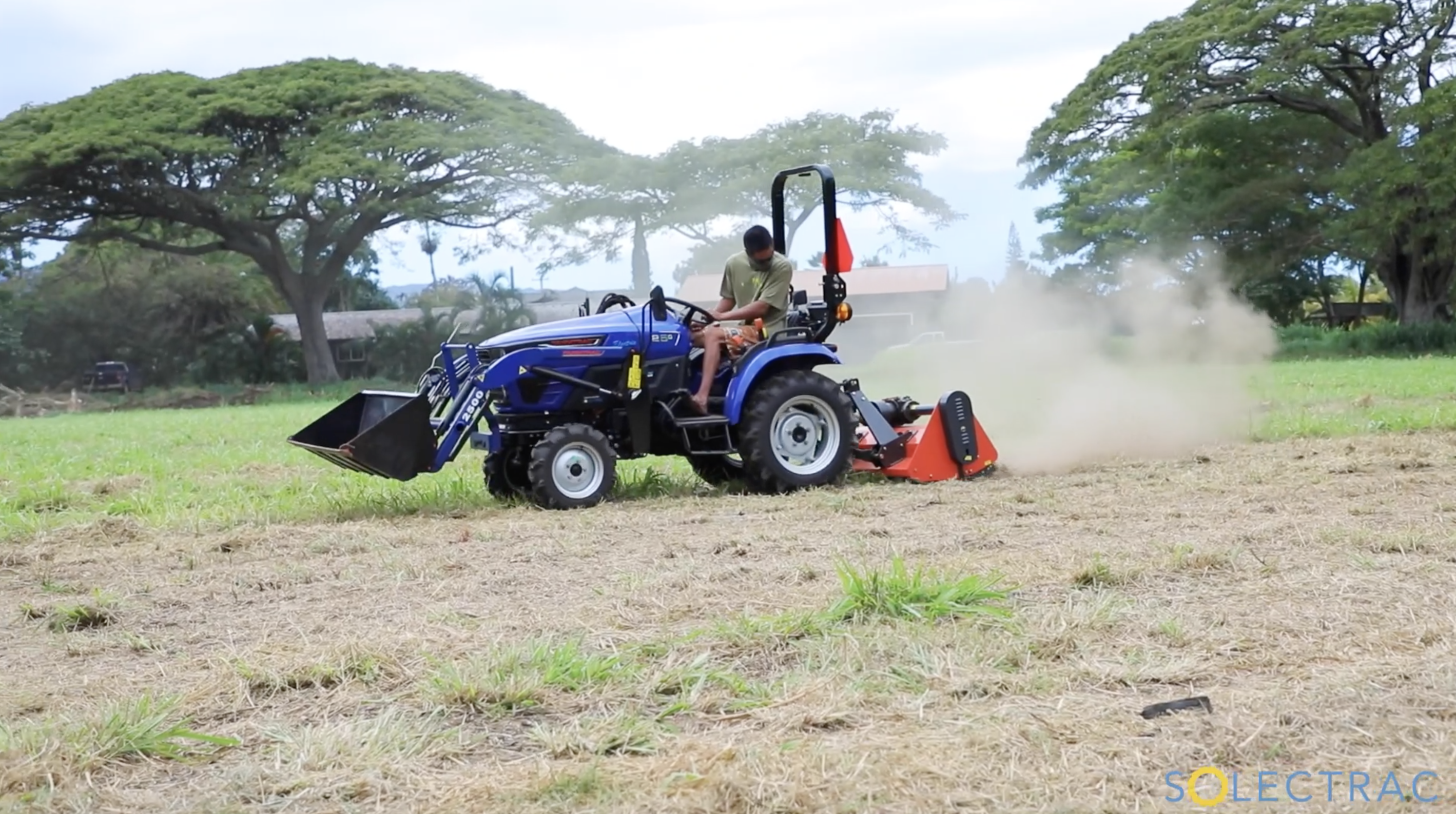 For the Johnsons and their friends, gathering back together made them feel like a community once again, able to enjoy good company and conversation around local farming. But the icing on the cake, of course, was the electric tractor they all came to see.
According to Christiane, everyone was excited to climb onto the tractor and try it out, especially the women.
"It's nice for us to be able to empower female farmers in agriculture. Women are a lot less intimidated by an electric tractor. They said they would actually use this, they would get on this, and that's fantastic.

Christiane Heckeroth

CCO of Solectrac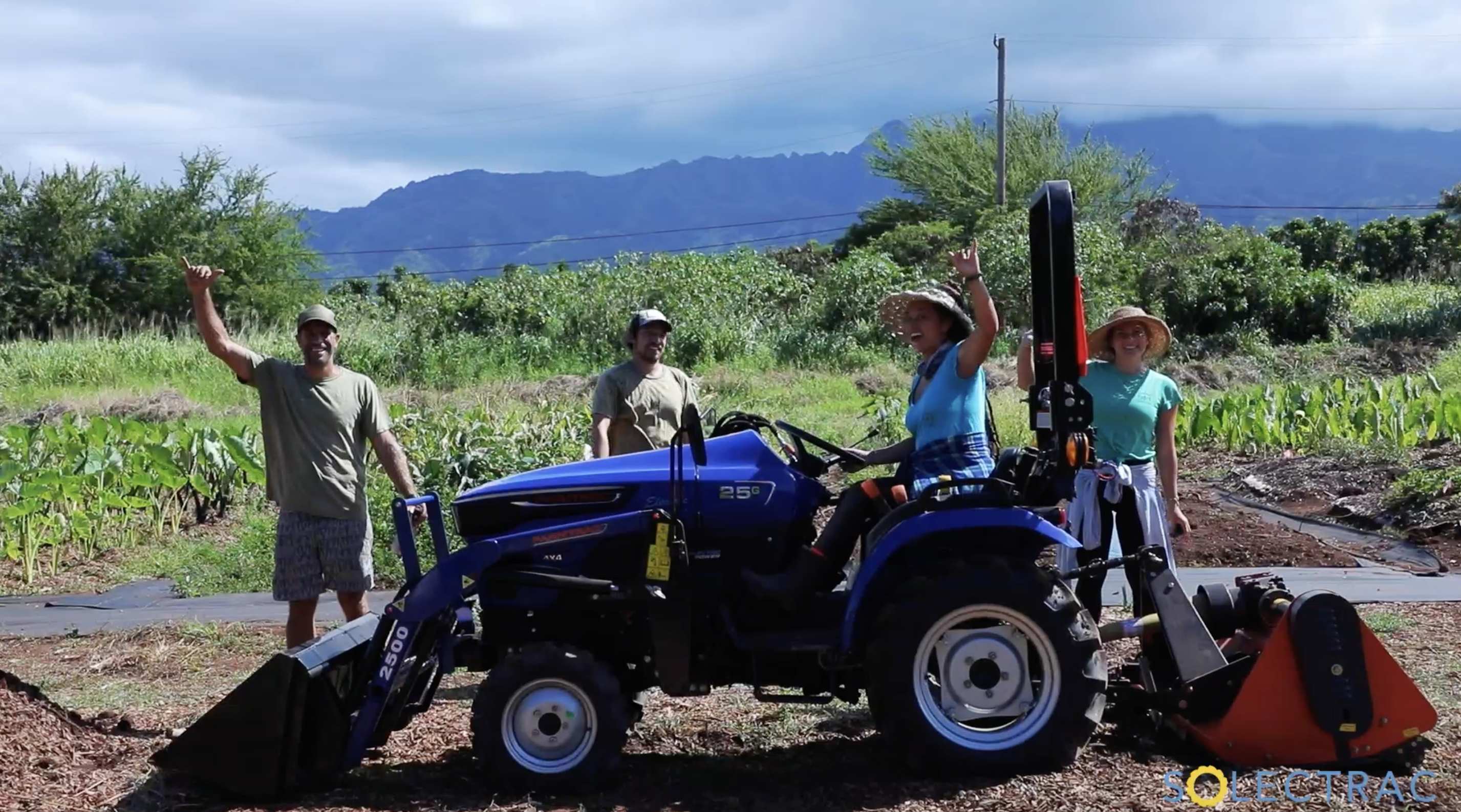 "We are so excited about our new compact electric tractor and our ability to run it with zero emissions off of solar power. We can't thank Solectrac enough for their generosity. The Kōkua Learning Farm is a place for people of all ages to see the possibilities of a bright future, and this new electric tractor will have lasting impact for generations to come.

Jack Johnson

Singer-Songwriter & Co-Founder of Kōkua Hawai'i Foundation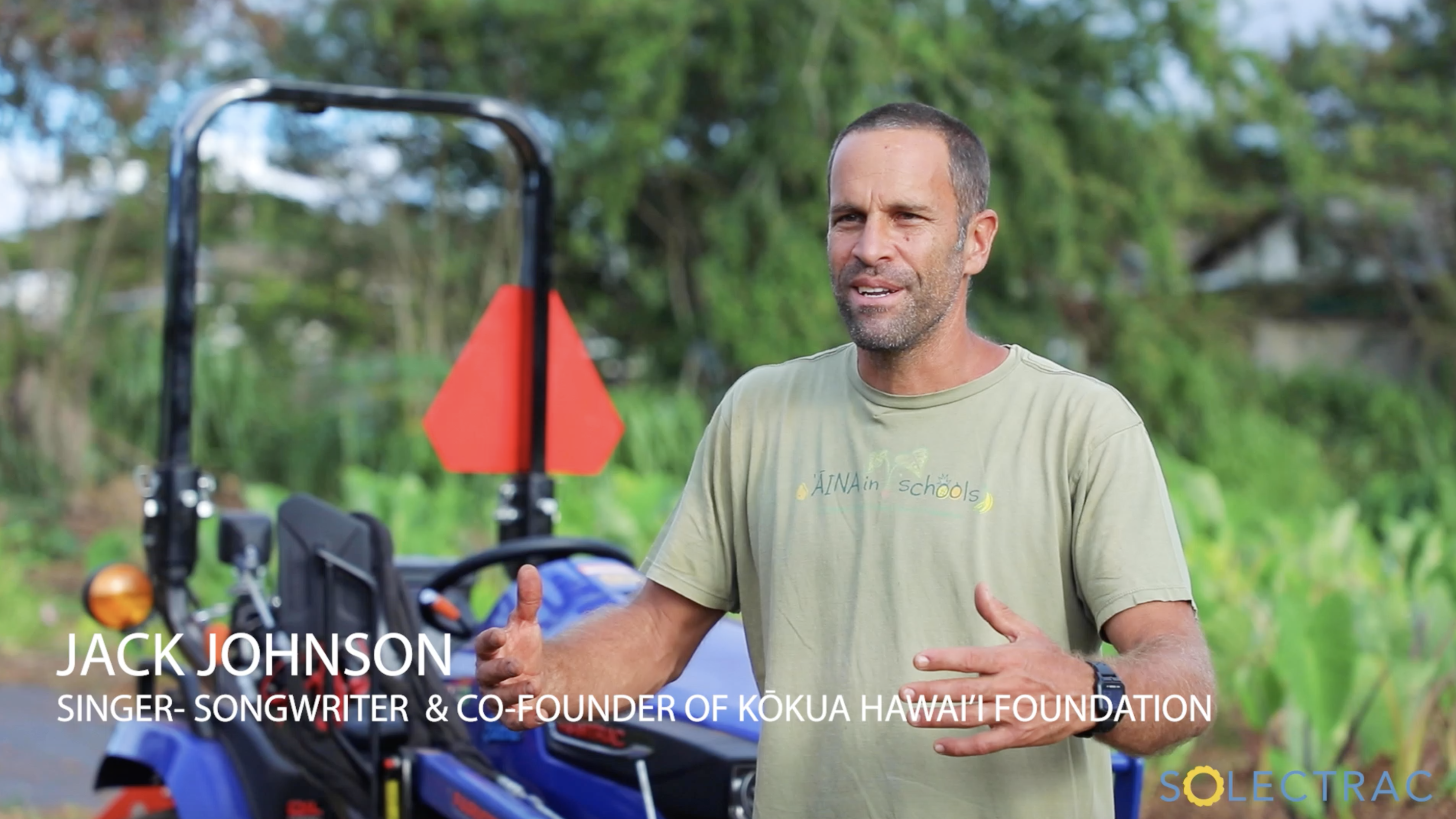 This delivery is one more step in Solectrac's efforts toward sustainable agriculture by replacing all gas and diesel tractors used in farming and agriculture with sustainable e-tractors. Pre-orders for the tractor that Jack uses and for Solectrac's other two tractors, the eUtility and the eFarmer, can be made on the Solectrac website. Solectrac just started a Tesla-like $1,000 down reservation program.
"We are very pleased to have Kim and Jack's support in our mission to reduce carbon output in farming and utility work. All of us at Solectrac are excited to continue this lasting partnership in sustainable agriculture with the Kōkua Hawai'i Foundation (KHF).

Steve Heckeroth

Founder and CEO of Solectrac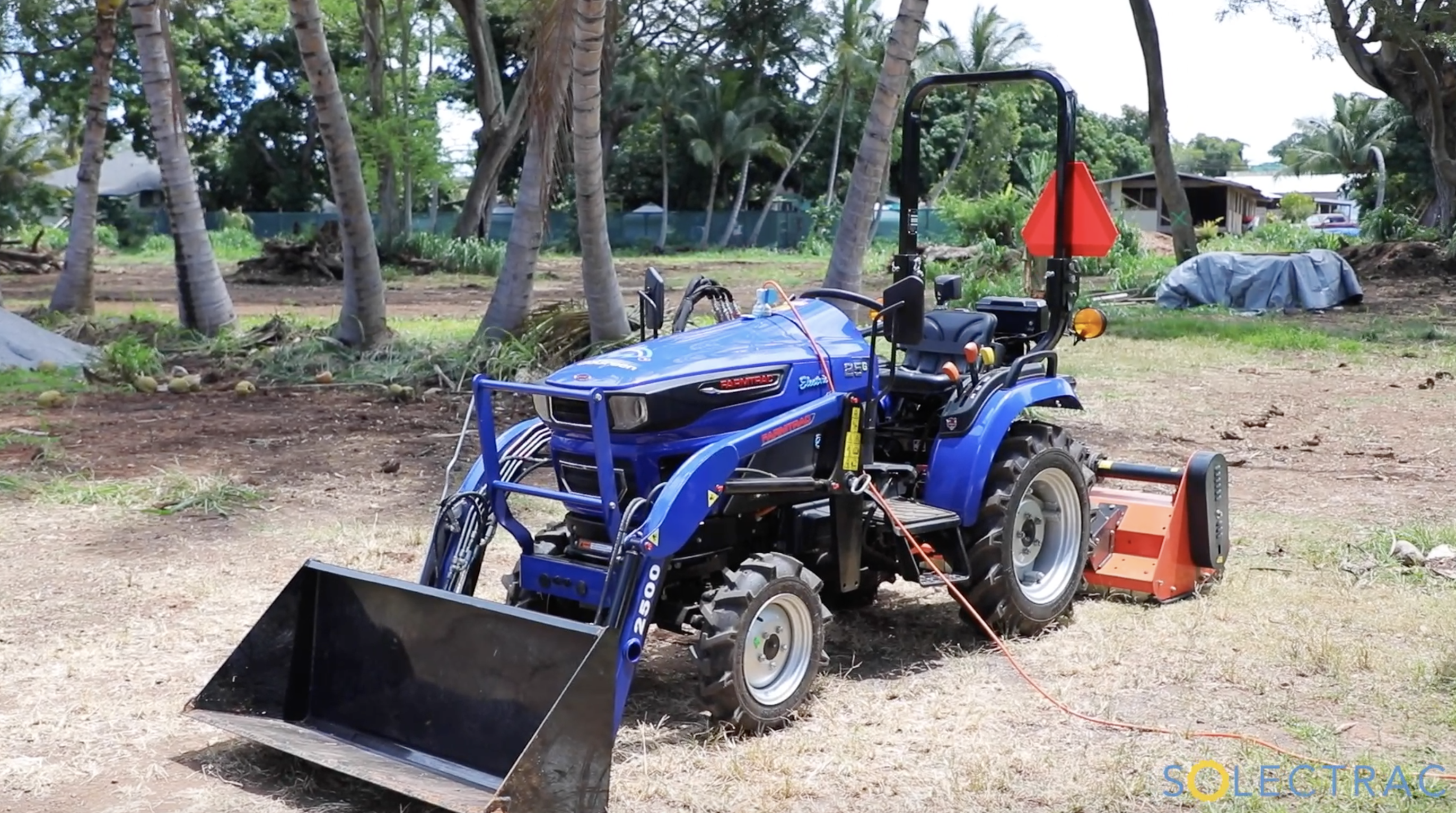 The 30 HP diesel-equivalent CET is a versatile, 4WD utility vehicle for vineyards, small farms, greenhouses, golf courses and municipalities. It features a 22-kWh battery pack offering up to 6 hours of runtime and can be charged by solar panels. The battery delivers a 10-year estimated lifespan and can be charged in under 4 hours from a 220VAC, 30-amp outlet or overnight from a 110VAC, 15-amp outlet. The CET accepts all Category 1 – 540 PTO implements, including hydraulics on its rear hitch. Base price: $25,800 USD.
Explore the full Solectrac lineup of Electric Tractors or to learn more about Solectrac's mission to lead the transition to zero emission regenerative agriculture:
This is just another story illustrating how Ideanomics  drives sustainability transformation with its portfolio companies like Solectrac. We provide our global customers and partners with leading technologies and services to improve transparency, efficiency, and accountability, and our shareholders with the opportunity to participate in high-potential, growth industries.