Last week, Ideanomics CRO Kristen Helsel shared insights about the company and its strategic environmental goals over two live interviews hosted by financial media outlet Benzinga.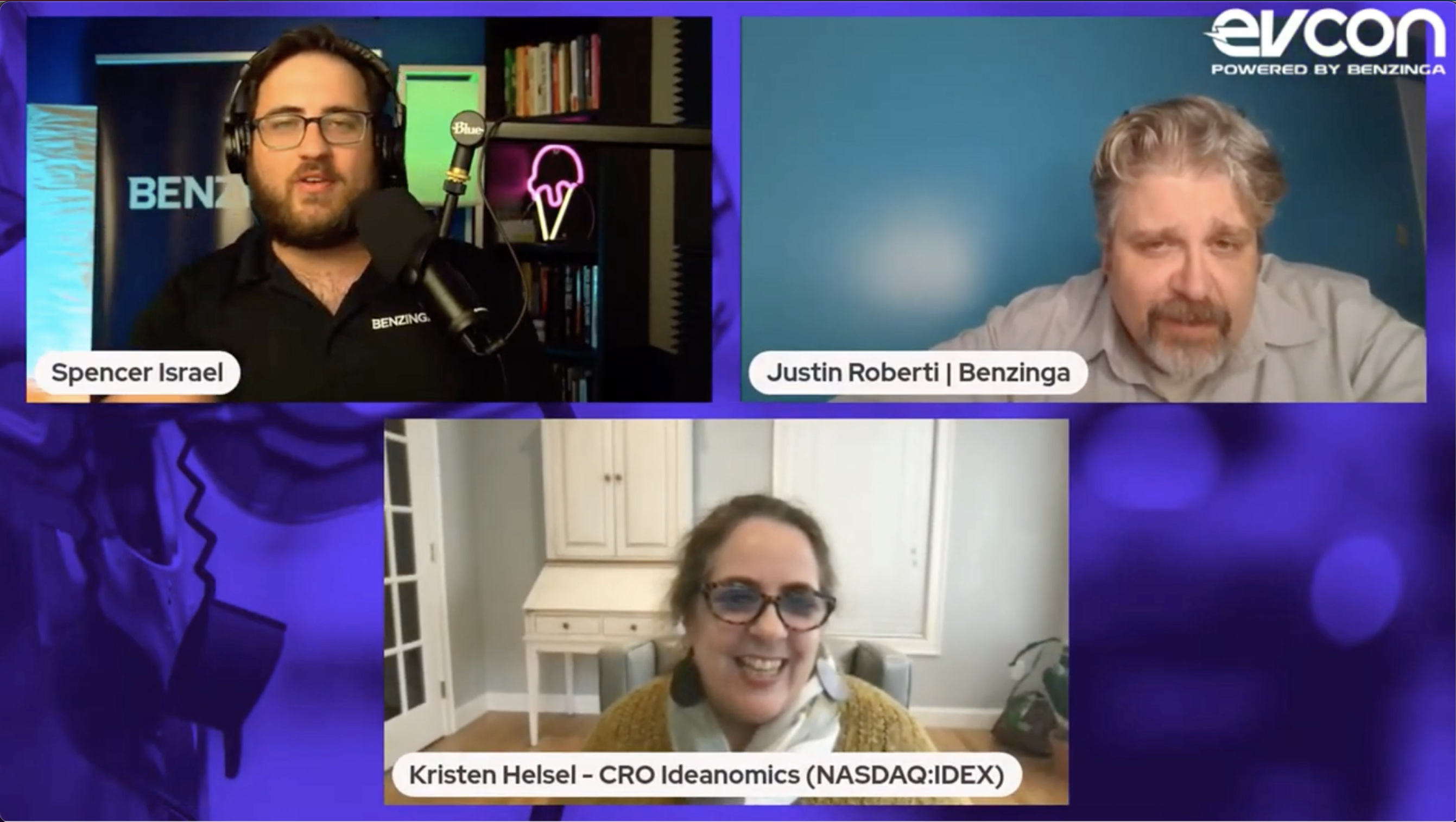 Three Things
If you had a magic checklist of the end-to-end solutions needed to transition a diesel-powered fleet into a fully electric one, you'd have a roadmap to the future. With roadmap in hand, Ideanomics (Nasdaq: IDEX) has successfully navigated this journey toward fleet electrification since Alf Poor stepped in as CEO in 2019.  
Over the last several months, Ideanomics has been steadfastly finding and even creating solutions for electrifying fleets, investing in and acquiring a synergistic ecosystem of businesses that make the complex transition to electric mobility both simple and scalable. 
When asked what Ideanomics looks for when investing in a company, Helsel replied, "We look for three things: transformational tech that will hold up in the future, referenceable customers who understand the product and have already deployed it, and strong leadership."
In fact, the company has assembled a superstar cast of executives to lead its subsidiaries. Last month, former BYD and Tesla executive Aaron Gillmore was named CEO of WAVE, joining CTO Michael Masquelier who is leading the engineering, operations, and technology development. At the helm of Solectrac is CEO Mani Iyer, a 28–year veteran of the agriculture sector, and Steve Heckeroth, Solectrac's Founder and former CEO, who is shifting gears to spend more time innovating and improving the way we grow and harvest our food. US Hybrid is led by CEO Abas Goodarzi, Ph.D., P.E., who also serves as the Chief Scientist at Ideanomics. 
Providing Solutions Start to Finish
Last week, Helsel was interviewed twice by Benzinga's financial news, data, and education outlet. The first live interview took place on Benzinga's Power Hour hosted by Managing Editor and Executive Producer Spencer Israel. The second interview came during the Benzinga Electric Vehicles Conference (EVCON), a live event moderated by Benzinga Crypto Writer Justin Roberti. 
During Power Hour, Helsel answered questions pertaining to Ideanomics' investment strategy, revenue, and business model. While Ideanomics thrives in the B2B EV infrastructure space, the company has also made investments and acquisitions in the electric vehicle space, including VIA Motors with its Class 2 to Class 6 skateboard technology, last- and mid-mile delivery vans, and Energica electric motorcycles.
"If a customer comes to us, we certainly have the infrastructure technology," explained Helsel. "But we also have the vehicle knowledge and technology, and we are uniting that around energy storage and renewables so that when someone comes to us and asks, 'How am I going to move my fleet to electrified transportation?' we can provide the solutions start to finish. And that's where we really think we are differentiated, by being that glue that holds it all together. We can make it easy for the customer to make that transition. We can help them do that." 
People Want to be Part of the Solution
Helsel is no stranger to the ever-evolving EV market, having spent over a decade working to develop an EV market, initially on the passenger EV side before moving to fleet electrification. In fact, she formed a new business unit around EV infrastructure at AeroVironment when they partnered with Nissan to launch the LEAF back in 2010, two years before Tesla's Model S came out. Only 300 electric vehicles were sold in 2010, but Nissan quickly rolled out across the US and eventually worldwide. Since then, nearly 1.5 million have sold. What Helsel has realized over time is that people want to be part of the solution to our climate problem. They want to play a part in changing the world. That change may have started with passenger vehicles, but it doesn't end there.  
"Whether you're making a street sweeper, for which our US Hybrid company supplies propulsion systems to, all the way to a mid– or last-mile delivery vehicle, all of those vehicles need to change, too," said Helsel on the EVCON broadcast. "It's not enough just to change the passenger cars. All of this has to be switched for us to be successful, and we're really very laser-focus on that transition at Ideanomics." 
Futureproofing
A prime example of what Ideanomics is doing involves WAVE, which offers a high-powered wireless charging system for the Antelope Valley Transit Authority, operator of the largest battery–electric fleet in the country. 
"We just believe that wireless charging is a way to help futureproof in the future," Helsel explained. "When I talked to big companies, what they are talking about is the autonomous future, and so wireless charging helps to do that." 
This transformation from internal combustion engine (ICE) vehicles to electric goes beyond our city streets and highways. Ideanomics has also made a push to remove carbon-spewing diesel tractors from farms, vineyards, and orchards by acquiring electric tractor company Solectrac, and is now turning its attention to ports. 
"You don't really think about all the vehicles at the ports, the vehicles that move containers off the ships and get them on trucks, and port electrification is something that we're seeing just starting now," revealed Helsel. "Those are some of the last boxes that we're going to have to check and we're already thinking about this." 
Operating as a Service
Despite their efforts, Ideanomics cannot reduce emissions, tackle the climate crisis, and improve our environment alone. The company works on contracts on the national and state level. They work with municipalities, individual transit agencies, and utilities. They respond to RFPs for infrastructure and charging projects, offering both Ideanomics Mobility and Ideanomics Capital to operate as a service so the municipality doesn't have to pay for it all at once. This service can help everyone prepare for a cleaner, more sustainable future.
"We have the financial wherewithal as a public company with investors who believe in us to make it to that future. I mean, this thing isn't going to happen tomorrow or next week or next month. This is a transition that's going to take many years and it's going to continue to grow here in North America, and worldwide. I would say that this is a journey that we're going to all have to take." 
To watch the complete interviews with Kristen Helsel, please see videos for:
Benzinga Electric Vehicle Conference 2021