This month, Ideanomics attended the Advanced Clean Transportation Expo (ACT) at the Long Beach Convention Center in Southern California. The largest advanced transportation and clean fleet event in North America, the 2022 ACT Expo welcomed over 3,000 show attendees and more than 8,500 industry stakeholders. This year, we returned to ACT to showcase our commercially available zero-emission solutions and lead the conversation surrounding commercial transportation and clean energy.
On the show floor, attendees were able to experience Ideanomics' latest product portfolio, including a new natural gas-powered powertrain technology for drayage and long-haul trucks from US Hybrid, the Solectrac e25 tractor, WAVE's high-power inductive charging pads and VIA's cost-effective modular electric skateboard technology (VIA transaction is pending shareholder approval). Outside the convention center, attendees also had the opportunity to test drive VIA's prototype vehicle featuring its industry-leading 100% electric commercial skateboard platform, with positive attendee feedback on vehicle operation and handling.
An Enthusiastic Environment
Across the show floor, sentiment and enthusiasm surrounding the commercial EV sector remained as high as ever, with attendees seeking to electrify their fleets and stakeholders looking for partnerships to fulfill a growing consumer and governmental demand for cleaner operations.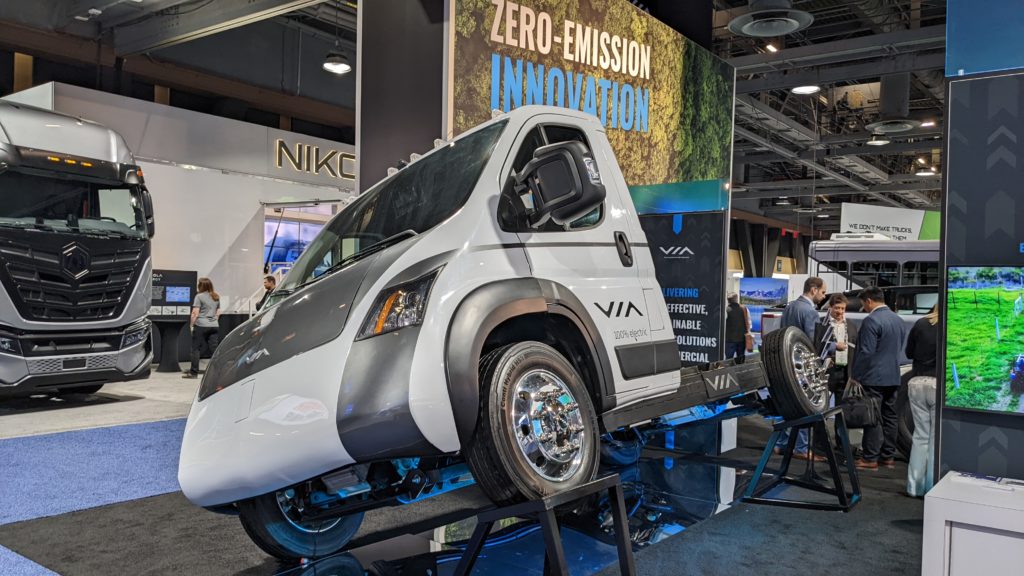 AT THE IDEANOMICS BOOTH
Ideanomics Energy, the one-stop charging and energy partner, led discussions on simplifying these processes through its comprehensive charging and energy products and services, including design, engineering, installation, operations and maintenance.
Evolving technology aligns with commercial EV architecture in the agriculture and utility sectors. Customers seek solutions to transition to cleaner operations through zero-emission, quieter and low-maintenance alternatives to diesel tractors. At the Ideanomics booth, attendees from agriculture, government, and municipality industries received a closer look at Certified B Corporation Solectrac's award-winning e25 compact electric tractor, a versatile battery-powered, four-wheel-drive vehicle with 3 to 6 hours of runtime, a 22kWh battery pack and charging in under 8 hours from a 220VAC 30-amp outlet or overnight from a 110VAC 15-amp outlet.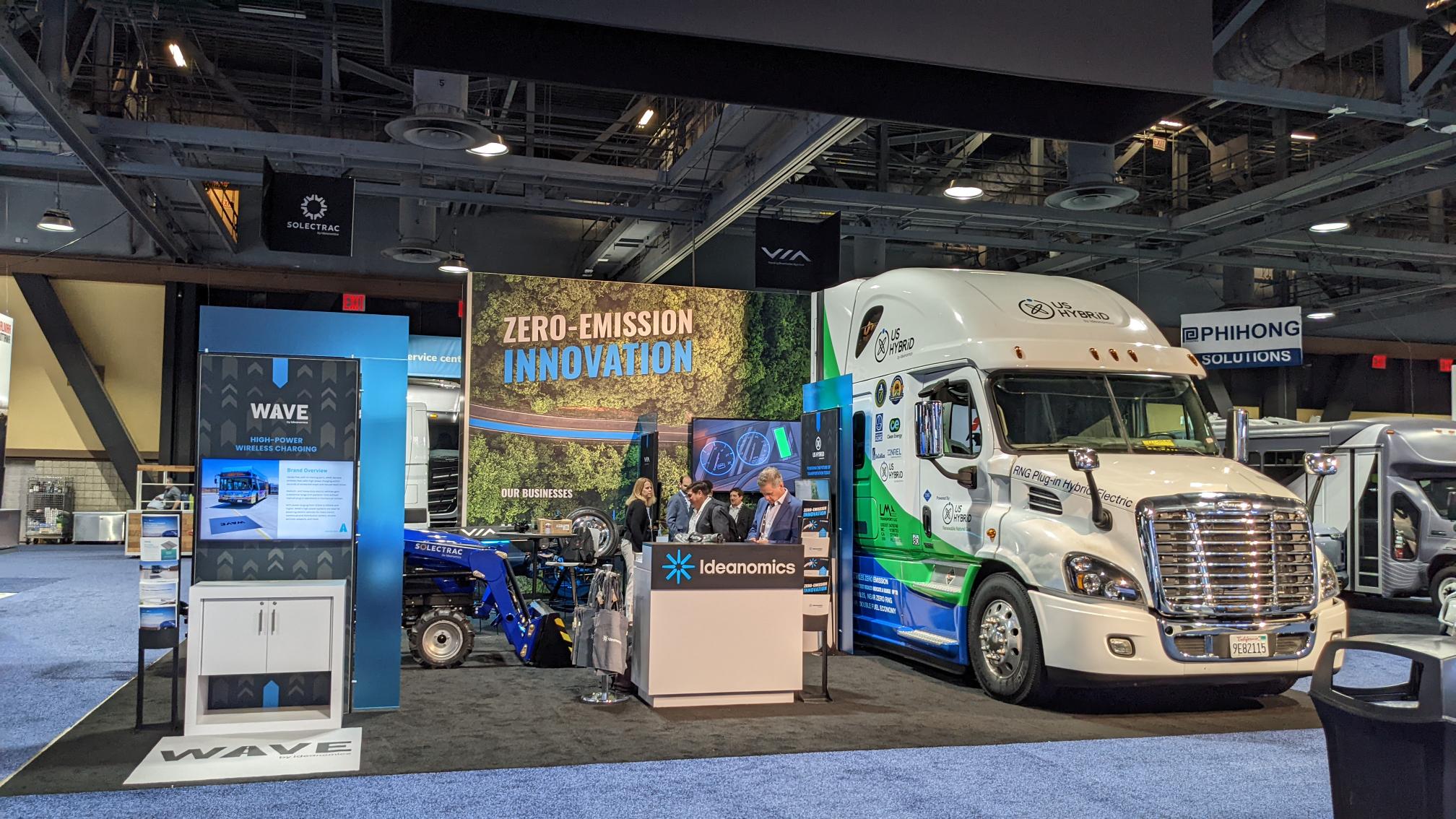 ACT Expo is the largest clean fleet event in North America. Ideanomics showcased their operating companies' innovative, technologically advanced offerings, including US Hybrid's near-zero-emission natural gas-powered parallel hybrid powertrain technology, Solectrac's e25 compact electric tractors and WAVE's inductive charging pads.
LOOKING AHEAD TO A COMMERCIAL EV FUTURE
Successfully transitioning to a future of widespread commercial electrification means electric fleets will need to accomplish the same duty cycle as diesel vehicles without disrupting business operations and economics. One of the prominent discussions amongst 2022 ACT exhibitors and attendees alike was the challenge of integrating electrification into the same duty cycle as diesel vehicles.
Electric fleet operators will need to consider traffic flow flexibility, fast-charging rates and the shortest time possible to start and stop charging. Furthermore, vehicles will also need the battery range to meet route duration needs for operators, plus charging capacity and onsite electrical capacity to meet the operation's charging needs. While public conversation surrounding commercial EVs has primarily been centered upon battery technology in recent years, charging is just as critical to successful operations as the vehicle itself. This is one of the key distinctions between ICE operations and EVs; with an electric fleet, fueling is a process to be managed rather than an input with only one factor—fuel cost.
Fuel costs can vary with commercial electric fleets depending on whether a route is run early in the morning or late at night. Operators' abilities to shift routes to times with more favorable pricing will be an option as significantly more battery storage deployments are implemented, providing a hedge against fluctuating electricity prices. Once charging and stationary storage are deployed, the next logical steps are onsite solar, off-site sourced renewable and more.
This is where Ideanomics Energy can offer fleet operators substantial value, with comprehensive electrification solutions to electrify and manage operators' commercial fleets. Ideanomics Energy's technology-agnostic software can help operators manage energy costs, establish charging schedules, manage vehicles and aggregate from multiple sources to provide a single source of data and operational efficiencies.
Up Close Experience With Solectrac's E25 Compact Electric Tractor
ACT Expo attendees had an up-close look at the e25 compact electric tractor. Solectrac offers 100% battery-powered, all-electric tractors for agriculture and utility applications.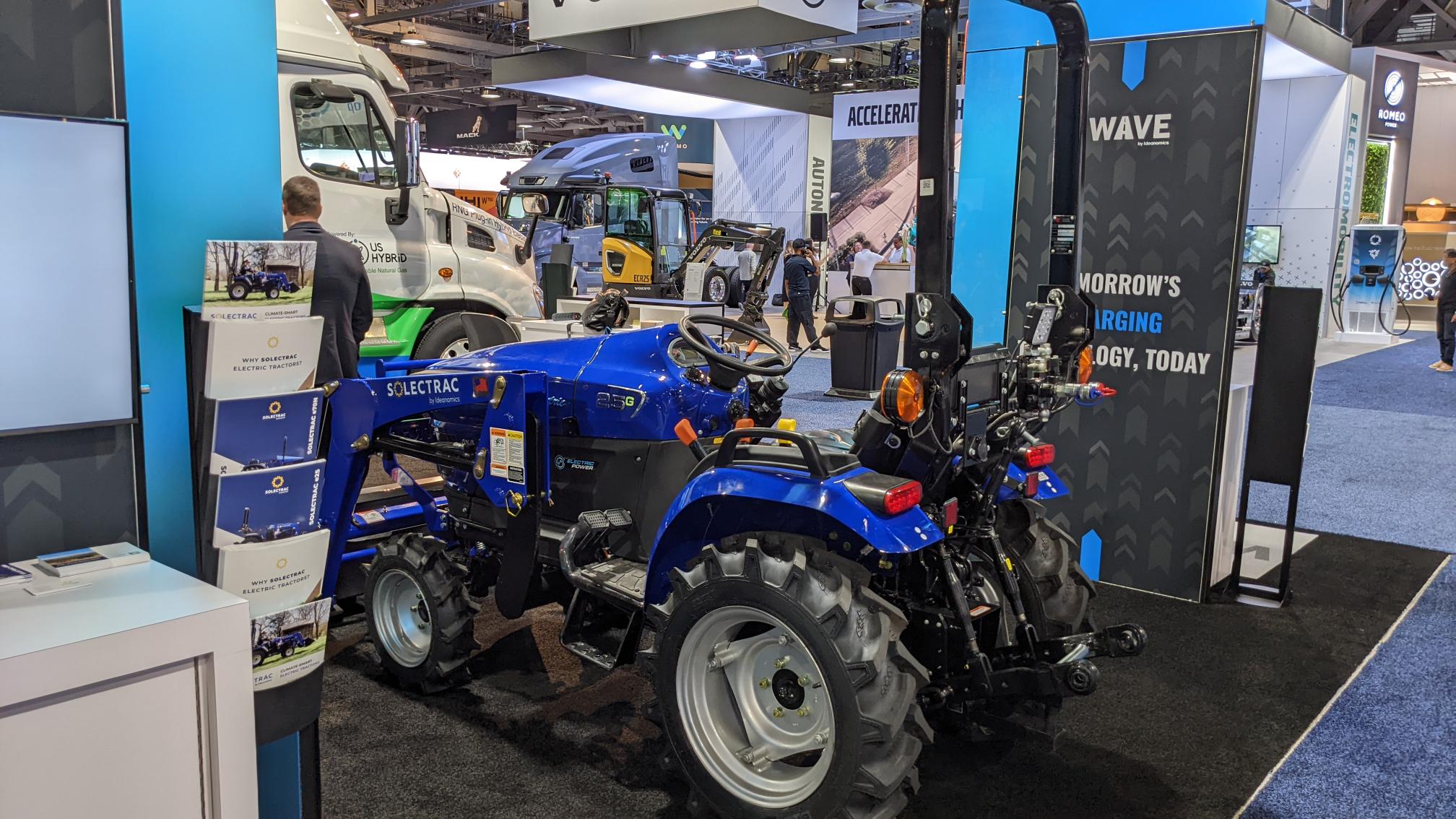 US Hybrid hosted a press conference during the expo announcing the launch of its near-zero-emission natural gas-powered parallel hybrid powertrain technology. This is a new milestone for compressed natural gas (CNG) vehicle conversion and integration, which will enable industry-first vehicle-to-vehicle (V2V) charging.
Click on the video to see Macy Neshati, US Hybrid Interim CEO, make the announcement.
At Ideanomics, we're dedicated to providing the solutions needed for the commercial world to commit to an EV future by bringing together vehicles and charging technology to accelerate the commercial adoption of electric vehicles.