Commercial electrification is rapidly evolving into a critical destination for many fleet operators, accelerated by a widespread increase in governmental and societal demand for sustainable solutions in the wake of climate change. With over $53.7 billion raised in 2021 by venture capital (VC) and private equity startups in climate tech (BloombergNEF), and the market for fleet-charging services projected to reach $15 billion per year by 2030 (McKinsey), operators, technology providers and investors alike are recognizing a consistent and progressive demand for optimized energy services.  
At the 2022 Munich BloombergNEF (BNEF) Summit, Ideanomics was front and center with other leading industry innovators and influential leaders to deliberate on how to capitalize on technological advancements to shape a cleaner and more competitive commercial EV future. 

Ideanomics Mobility President Robin Mackie participated in a panel discussion, "Scaling Homegrown Startups Is Essential for Europe to Achieve an Economic and Secure Energy Transition. Or Is It?" which focused on the challenges abroad. The panel explored Europe's lag in climate-tech innovation and where homegrown climate-tech is needed the most, including later-stage areas such as transport, fuels, energy and early-stage areas like materials, industry, grid resilience and adaptation. 
Of the $53.7 billion previously mentioned, most of the funding was from the US, with a smaller portion from Europe. One of the challenges mentioned was exit opportunities, ranging from potentially lower health in IPOs or SPAC markets compared to the US and conservative investments focusing less on initial capital and more on driving profitability in the first phase. So, what are the best funding methods for European and non-European climate tech companies in the coming years? 
Mackie explained, "Many people look at VC in the early stage but need to look at this as a journey and present different funding opportunities. Those organizations with the technology and a focus on climate tech will have to find different and innovative ways to complete their journey, which includes solutions like joint ventures and working with strategic companies that are synergetic in terms of what they believe." He further explains, "putting that together is going to be quite challenging but will be fundamental to the technical organizations within this space's success in the next 2-3 years." 
(Pictured L to R) Johannes von Borries – Managing Partner, UVC Partners; Sarrah Raza (moderator) – Analyst, Technology and Innovation, BloombergNEF; Robin Mackie – President, Ideanomics Mobility and Peter Hirsch – Head of Sustainability, 2150 VC.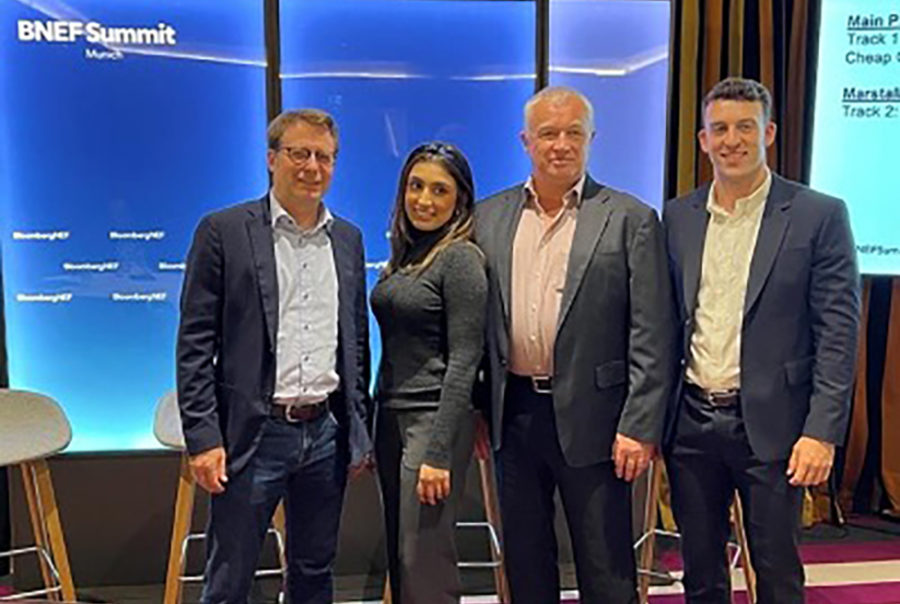 Critical Components of EV Adoption
Fleet operators transitioning to electric fleets want to minimize costs and increase reliability. The uncertainty of integrating EVs into their current duty cycles is coupled with numerous new technology options and infrastructure deployment. During a hosted roundtable discussion entitled, "Streamlining Fleet Charging and Energy Solutions to Accelerate EV Fleet Adoption," panel participants, which included Jan Freimann, Ideanomics Energy Senior Vice President, identified and explored a couple of critical components that need to be addressed to enable widespread EV fleet adoption in the commercial sector.
(Pictured L to R) Albert Cheung (moderator) – Head of Global Analysis, BloombergNEF; Udo Heller – CTO, Prettl Electronics Automotive GmbH; Jan Freimann – Senior Vice President, Ideanomics Energy and Sebastian Ewert – CEO, MAHLE chargeBIG.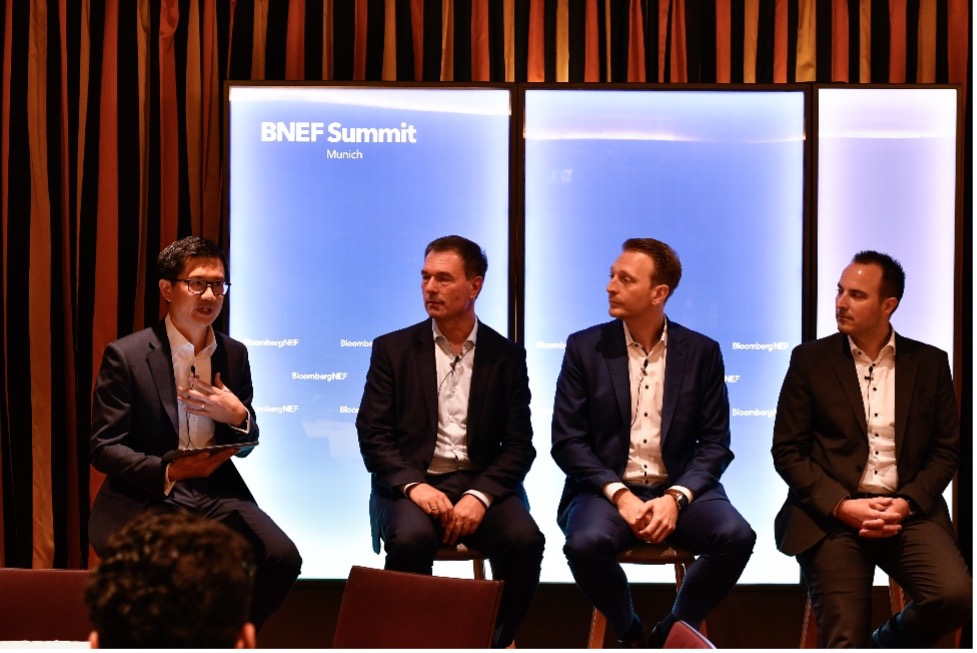 One critical component discussed was the need for fleet operators to clearly understand the numerous hardware and software options constantly entering the market. Fleet operators can get overwhelmed as they navigate the multitude and complexities of all the technological options that are right for their operations. Another critical component discussed was the growing need for consolidated charging and energy players that offer a 'one-stop-shop' of commercial charging turnkey solutions from initial planning and modeling to financing, engineering and deployment of infrastructure to operations and management.
A trusted partner with charging and energy solutions is key to supporting fleet operators on the road to EV adoption. By combining technology-agnostic, innovative charging, energy hardware, smart energy management software and energy services, fleet operators can obtain the best system uptimes and robust, reliable fleet operations with electric fleets.
The drive towards zero- and near-zero emissions commercial fleets will continue to gain speed and fleet owners should seek support from a partner who can deliver a streamlined process that makes the transition to an electric fleet seamless. Ideanomics Energy is doing just that by having world-class, in-house experts developing customized strategies and products for each to assist customers with minimizing costs, increasing reliability and limiting uncertainties in building a comprehensive electrification strategy.